Annual Boiler Service: Why Do I Need One?
Annual Boiler Service: Why do I need one?
Servicing your boiler every year is essential both to maintain the manufacturer's warranty, and to help prolong the life of your boiler. Did you know that neglecting your boiler can cut its life in half?
Annual boiler servicing also helps identify any potential boiler issues before they become more serious, and also ensure that your boiler stays as efficient as possible for as long as possible, helping you save money on your energy bills.
Always ensure that your boiler is serviced by a Gas Safe Registered Engineer such as Smart Plumbing.
Check your service record now and contact us if your service is due!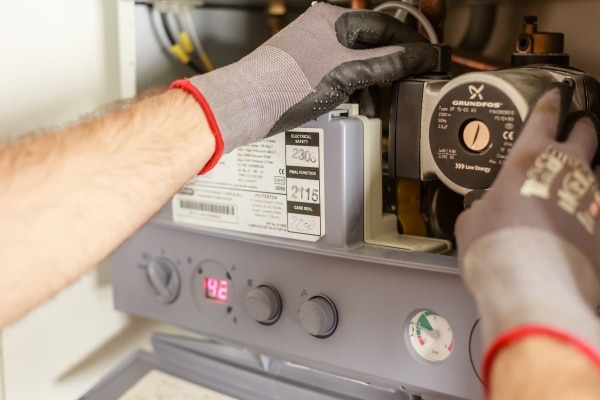 Why Should I Have my Boiler Serviced?
There are many reasons why you should keep up-to-date with regular, annual, boiler checks:
1. Safety
Regular servicing ensures that your boiler is running both efficiently and safely. Faulty boilers can produce carbon monoxide, a poisonous gas with no smell or taste. Breathing in carbon monoxide can make you unwell, and exposure to high levels of it can be deadly. 
2. Maintenance
Having your boiler serviced every year ensures that any minor issues are promptly detected and can be fixed before they escalate. This can save you money on future repairs.
3. Reduce your Energy Bills
During your boiler service, the engineer will make sure that your boiler is working to its maximum efficiency. This can save you money over time as the more efficient your boiler is, the less it costs to run.
4. To Validate Manufacturer's Warranty
Most boiler manufacturers require that an annual service is carried out to their standards to validate your boiler's warranty.
5. Legal Requirement for Landlords
Gas appliances and flues must be checked annually by a qualified, Gas Safe registered, engineer. As well as boilers, this includes gas ovens and fires.
A typical boiler service will include:
1. Visual Inspection
Your engineer will check your boiler for any external signs of damage or distress, as well as cleaning and adjusting components as necessary.
2. Operation and Control
All of the functions of the boiler will be tested to ensure they are working correctly.
3. Flue Inspection & Flue Gas Analysis
The flue is the pipe that connects your boiler to the outside of the house. Your engineer will check that this is safely and securely fitted, and that there are no blockages. They will also check the composition of the gases passing through the flue to ensure that the values fall within the ideal range.
4. Clean Main Boiler Components
The main components of the boiler will be removed, cleaned and inspected. The engineer will ensure that there are no visual defects, and that the parts remain fit for purpose. 
5. Additional Checks
The additional checks performed by our engineer vary depending on the type and age of boiler installation you have, but cover all aspects of boiler operation as well as ventilation and general safety checks.
6. Make a Record
The results of each check are recorded. You should keep a copy this information for future reference.
7. Leave the Boiler Ready for Use
Any settings or controls that were changed during the service are returned to your settings or left so that you can easily adjust them to your liking.
How do I Book a Boiler Service?
Simply give us a call and let us know when your boiler service is due, and we will get you booked in!